Now that I have returned home and have had a chance to settle back in, I wanted to take the opportunity to give an update on my trip to Gettysburg for the 150th anniversary of Remembrance Day. On Friday I was able to find the Rose Farm and explore the Stony Hill where Daniel Boyd of "The Boys of Diamond Hill" was wounded on July 2, 1863. Night fell too quickly and I was not able to fully explore Blocher's Knoll where my Great Grandfather John C. Booth helped General John B. Gordon chase the federals from that point through the town of Gettysburg before stopping for the night of July 1.
On Saturday we donned our period attire and I assumed my table inside the Gettysburg Wax Museum where I once again was honored to sign copies of "Georgia Remembers Gettysburg" along side one of the great historical fiction authors of our day, Jeff Shaara. Another fine writer I had the pleasure of sharing a table with was Bruce Mowday, author of "Pickett's Charge: The Untold Story" and "Unlikely Allies: Fort Delaware's Prison Community in the Civil War." It was a beautiful sunny day for the parade, but it was quite nice having a prime spot indoors protected from the wind and cold temperatures.  Meeting and connecting with readers is always a great experience and makes the pursuit of writing less solitary.  I even received several invitations to speak at northern Civil War round tables.  Time and finances makes these trips unlikely, but some select appearances may be possible. Sundown brought colder temperatures still and snow.
Sunday we headed down I-81 toward home through light snow flurries. We had not gotten far before the Interstate turned into a parking lot near Exit 10 in Pennsylvania. We would later hear that this was due to a 10 car wreck several miles along. After scarcely making any progress, we managed to exit and head down Highway 11 — The Molly Pitcher Highway — only to discover that it was not much better. It was approaching lunch time and after spending a good period at a standstill, I turned around and headed back to a little restaurant we had passed and stopped for lunch. We had a great lunch at Mrs. Gibble's Restaurant at 7325 Molly Pitcher Hwy, Greencastle, PA. Our waitress, Kelsey, took great care of us. Wonderful food at good prices and a homey dining room. On the whole it was far better than sitting in a traffic jam and by the time we finished, the backup was mostly cleared out. I highly recommend anyone passing through make a stop there and try out their corn fritters and pork tenderloin.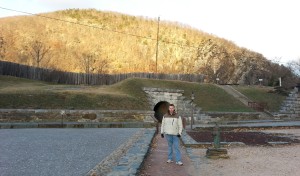 From there we headed down the road and made a stop at Harper's Ferry. Braving the 24 degree temperatures and the icy winds blowing off the Potomac River didn't encourage a long stay, but we briefly looked around and I managed to have my picture taken with Maryland Heights as a backdrop. On this ridge, Pressley Boyd received his death wound on September 13, 1862 in the beginning of the Sharpsburg Campaign.  Upon this ridge, brother Daniel Boyd and best friend James Alewine buried Pressley where he would rest until the Confederates were later moved.  Some time when it is warmer I would like very much to hike to the top of this small mountain. On this day, however; a short time in the brutal winds and low temperatures was plenty. So we soon climbed back into the car and headed on toward home.
It was an enjoyable time. I would like to thank Tammy and her staff at the Gettysburg Wax Museum for making me feel right at home. Although I didn't have the opportunity this time around to do an event there, I stopped in to visit fellow Georgia native Lucas Cade at Pages of the Past and discussed our ancestors who served together in both wars for independence. I autographed the copies of "Georgia Remembers Gettysburg" he had on hand while there. Drop in and get them while they last. Hopefully I will be able to do a program for them some time next year.