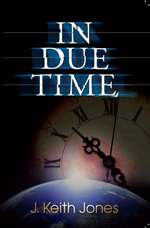 A great review by R.G. Yoho, author of the Kellen Malone series of Westerns was just posted to Amazon.com. I am so flattered and humbled by such a fine review from an author whose work I respect that I wanted to share it with you here:
I Loved This Book!, December 13, 2011
By RG Yoho
Some of America's greatest literature and movies have been known to examine how the life of one man could have an impact on others and society as a whole. The plot has been done many times, in many forms. I have always been intrigued by them.
However, what sets these stories apart from the others is the individual writer's skill at spinning a compelling story.
J. Keith Jones has created a masterpiece of the genre with his book, "In Due Time."
Along with a great story, Jones has also displayed an exceptional knowledge and insight into history, politics, and current events. He skillfully weaves these elements into the book, creating a story that grabbed my attention from the first page, and wouldn't let me go until I finished the book.
I would highly recommend this book to anyone who likes thrillers, science fiction, or just good quality literature, no matter what the genre!