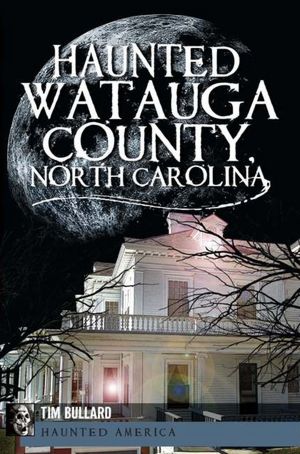 Haunted Watauga County, North Carolina
By Tim Bullard
Haunted America, History Press
Reviewed by J. Keith Jones
Haunted Watauga County is part ghost story, part travelogue. Leveraging both old time folklore as well as his extensive experience as a long time journalist, Tim Bullard gives you a tour of Watauga County, North Carolina. This book will ring out to anybody with a connection with Boone, Blowing Rock or any other Watauga County community; whether it be through skiing, Appalachian State University or just sight seeing and leaf peeping.
The stories in this book come from research in folklore collections, first hand interviews of local old timers and Bullard's own experiences on the local crime beat. Among the interesting stories in this book are the details of the Durham family murders in 1972 and the subsequent haunting in the house they lived their final hours in. The author is also able to add his personal insights on such local figures as blue grass legend Merle Watson who died tragically in a tractor accident.
If you have any connection with Watauga County you will find much to hold your interest in Bullard's stories.