Barringer, Sheridan R. Custer's Gray Rival: The Life of Confederate Major General Thomas Lafayette Rosser. Burlington, NC: Fox Run Publishing, 2019.
Sheridan R. Barringer has turned in a solid biography with his new entry of the life of Major General Thomas L. Rosser.  Rosser is an interesting mixture, both underrated by history and overrated within his own mind.  Rosser was a solid and highly capable cavalry commander who squabbled with his superiors almost as much as he fought with the Federal army.  Handpicked by Jeb Stuart for cavalry command from his previous command in artillery, his first infighting manifested with Confederate Secretary of War, George Randolph, when Rosser said he preferred to remain in the artillery.  Stuart intervened and cajoled him into accepting the command, however; he eventually turned on Stuart when promotions didn't flow as quickly as Rosser believed he deserved.  Despite this, Rosser ended the war in division command under Wade Hampton, having fought many interesting and important battles.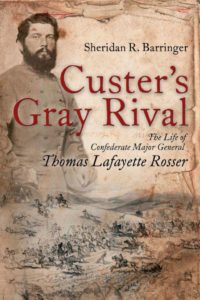 Rosser's after war life and adventures as a railroad executive out west and his hitch as a Brigadier General of volunteers in the U.S. Army during the Spanish American War bring nearly as much flavor to the saga.  Barringer also gives special coverage to the close personal friendship between Rosser and George Armstrong Custer, dating back to their days as fellow cadets at West Point.  This biography brings great depth to the study of the cavalry in the Army of Northern Virginia and is destined to be the most definitive work on this overlooked general.