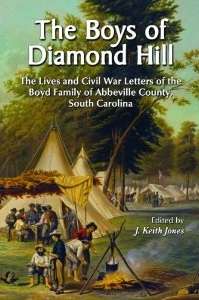 From time to time, I will revisit my past books on the online outlets to see if there is any activity and am always gratified to find a new review. This fine review (5 stars) copied below is for "The Boys of Diamond Hill: The Lives and Civil War Letters of the Boyd Family of Abbeville County, South Carolina," a book I am very proud of and was thrilled to have won a gold medal for history from the Military Writers Society of America. I appreciate the reviewer taking the time to share his thoughts on my book.
I approached the writing of this book with a bit of trepidation.  In many ways I felt like I was intruding on other people's lives, and in many ways I was.  I soon found out from a number of folks, including descendants of the Boyd brothers, that any intrusion I was responsible for was a good one.  Reviews like this one make me glad I wrote this book all over again.
Now, if only my readers will begin to do the same for "Echoes From Gettysburg: South Carolina's Memories and Images" so others will also discover it.
————
For those of us fortunate enough to escape going to war, this book provides a glimpse into the horror and tragedy that is always a part of war. The letters to home from members of the Boyd family of Abbeville, SC bring home the personal losses suffered by one family, losses that were seen on both sides of this war.
I picked up this book because my grandparents lived in the Diamond Hill District in the late 1870s thru about 1915. While none of my known relatives are mentioned, nevertheless, my grandparents had to have been familiar with the stories of this and other nearby families. Most historical accounts of wars are somewhat impersonal, say the view from 20,000 feet. This,however, is the ground level account. It's easy to become attached to the characters, worry with them about how their families are doing, and grieve when they are lost in battle. Accounts such as this are the only way, short of actually participating, to learn what war is really like. For that reason, I think it provides an invaluable lesson.