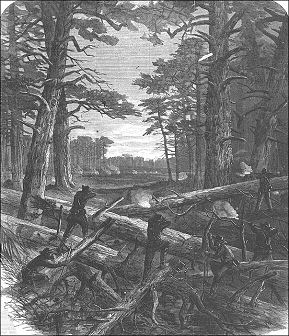 On Feb. 3, 1865 Daniel Boyd wrote his sister, Mary Jane Hall — Fenton's widow — from his camp on the Salkehatchie River in South Carolina. Daniel and the 7th S.C. Infantry was finally home in South Carolina as they had long wanted, but it was certainly not in the way they wished. The war was drawing to a close and Sherman was on the march through South Carolina, laying the torch to everything not worth stealing. Interestingly, this letter was written right some time around the time of the Battle of River's Bridge, yet Daniel doesn't mention it. He makes scant mention to a "little fight" that the 3rd Regiment and 3rd Battalion were in "the other day." This would lead you to believe that the battle must not have occurred at the close of his letter. His mention of the "little fight" was of two men killed and eight or ten wounded. At Rivers' Bridge along the Salkehatchie River Lafayette McLaws delayed Sherman's army for two days with 1,200 men.
Daniel talks about the swamps and the lack of healthy drinking water saying, "There is nothing but swamps down hear. We half to use the river water to drink. It is very bad but it is the best we can get in the country." He also laments that "Some of the boys says that their folks hav turnd to unionist and that they need united states stamps to cary their letters through."
---
The Military Writers Society of America Gold Medal for History 2012.
To read the entries thus far in the Sesquicentennial series for The Boys of Diamond Hill click here.
To learn more click on the "Diamond Hill" link at the top. To buy the book you may go to any major online retailer such as Amazon or Barnes and Noble, or you may buy it directly from McFarland Publishers. "The Boys of Diamond Hill" is also available for the Kindle.