A new review of "The Boys of Diamond Hill" appears this month in the Confederate Veteran Magazine, the magazine of the Sons of Confederate Veterans.
The reviewer stated: "after reading it… I almost feel like a member of the Boyd Family…" and that "The reader gets a very good look inside the hearts and souls of this South Carolina family."
You may read the pdf of the full review here. Confederate Veteran Magazine Review
---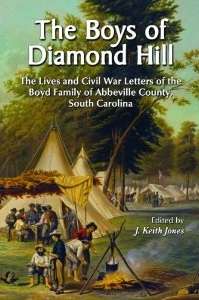 The Military Writers Society of America Gold Medal for History 2012.
To read the entries thus far in the Sesquicentennial series for The Boys of Diamond Hill click here.
To learn more click on the "Diamond Hill" link at the top. To buy the book you may go to any major online retailer such as Amazon or Barnes and Noble, or you may buy it directly from McFarland Publishers. "The Boys of Diamond Hill" is also available for the Kindle.