As promised, I was at the Anderson Visitors and Arts Center at 110 Federal Street in beautiful Anderson, South Carolina yesterday — Saturday, June 9. It was a great day and I had the concern every writer wants… I was worried I was going to run out of books. As it worked out, I had exactly the number I needed.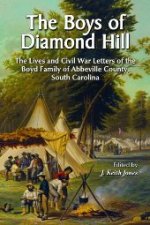 Turnout was great and I got to meet a number of people living in the Diamond Hill area. There were also several people who had ancestors in the book in one form or another. Special thanks to Nita Jones for helping me during the day. She was the key to success of this event. Nita is a direct descendant of Fenton and Mary Jane Boyd Hall from the book. It was also great meeting Steve Blackwell, another Boyd descendant who shared a great picture of his ancestor, Samuel "Amaziah" Purdy in his Confederate uniform. Amaziah was the husband of Sarah Boyd, sister of the Boyd brothers of Diamond Hill. The Anderson Visitor's Center was very gracious and their board room was a fantastic venue for this event. Please go by and check their museum and genealogy room — home of the Anderson Genealogical Society.
Rather than being a formal presentation like I often do, this was an opportunity to visit and fellowship with current and future readers without anything between us. This is the food for the soul that keeps a writer writing.