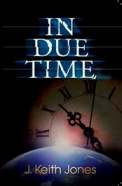 I was listening to a radio interview this morning with comedian and self-appointed "TV Geek" Paul Goebel. He was pointing out the number of new shows this year centered on time travel as the driving device. He spoke of there being three, but a quick internet search also uncovered this article by Elizabeth Logan in Glamour magazine, which names several more. DC's Legends of Tomorrow, Time After Time, Frequency and Making History, among them.
This got me thinking, is it time that the public had another look at my novel, "In Due Time?" Maybe in 2010, it was simply ahead of its time. Like many small market books, "In Due Time" didn't quite capture a large audience. Reviews were mostly positive and many of them came from outside my family [grin], nonetheless, it did have its detractors.
On Amazon, reviews were almost all four or five stars, but naturally there was that single one star review. Once I get past the sputtering, "What! But… but… but…" I become amused and wonder what is behind the person's viewpoint. So I will look into the other reviews this person has written to determine his preferences. In this case, I determined that he was looking for a shoot-em-up revenge type of book with a high body count. He was disappointed and didn't stick it out long enough to see the rivers of blood he was seeking. If I ever meet him, I will gladly hand him three bucks to compensate him for the Kindle edition he purchased.
Likewise, Goodreads has mostly positive reviews, but there are a few complaints of it being too "pro-America." … Your honor, I plead guilty and throw myself on the mercy of the court. Some of these same folks accuse it of being "anti-European." That I will mount a defense against. Frankly, this book could have been written from the perspective of many European countries. I just happen to be American, so that was my easiest perspective to adopt. It, however; is not a glowing endorsement of the European Union or any global consolidation, for that matter. So for those who believe that the EU is the greatest construct known to history and should be emulated the world over, that would likely be their interpretation. To others who simply hate America, this is also the likely reaction.
There also has been the critique that the women were too idealized. I'm not sure how fair that assessment is, as there are females in the book for whom the pedestal is set pretty doggoned low. Notable examples being a promiscuous fifteen-year-old home wrecker and an abused woman who refuses upset her "ideal world" by walking out on the man who treats her – and their son – like a doormat or worse.
It is true, though, that none of the "leading ladies" of the book fall into the category of: drug addicted, gender confused street urchin who dabbles in prostitution to survive. My apologies. I will try harder next time. The truth is, some of these people were living something of an idealized existence for part of the book – although, I hope I managed to make that entertaining and character building, nonetheless. This is the kind of life most of us would construct for ourselves and friends if we had a time machine we could use to go back and set the stage.
Of course, the point being, this does not last and hits a pivot point that redefines the world of its characters. That's where it becomes interesting and Joshua Lance (our hero) realizes just how much more complicated his life is than he once believed and it goes from there.
I digress, but it is interesting to look back on a project that is done and released, once it is no longer your main focus. Since "In Due Time" I have crossed over to writing more history with the release of "The Boys of Diamond Hill," but I still write fiction also, mostly short stories. I do have another novel that is on my radar for the near future, and plan to get back to that soon.
Back to the main point of this piece, do you think that "In Due Time" should see a revival? If yes, how should that take place?