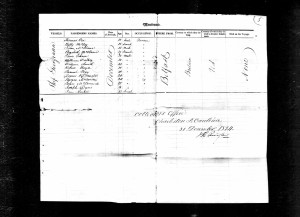 Research is a funny thing. Just because you have published a book on a subject doesn't mean that your research has finished. Perhaps I will reach a point in my life where I may put something away and move on, but that point has not happened yet. Two years after publishing The Boys of Diamond Hill, I am still discovering more about the Boyd family. I meet descendents and they tell me things or offer material, such as when I was told of the existence of two additional letters from Daniel in a family bible. I take a whim and search a database for something and discover another document that is now online. This happened this week when I discovered what is quite likely the ship manifest that documents the arrival of a young Robert Boyd — the father of the Boys of Diamond Hill — from his native Ireland.
On Dec. 31, 1824 a twenty year old Robert Boyd stepped off of the 700 ton Georgiana onto the docks in Charleston in his new home state of South Carolina. They had departed from Belfast, Ireland on Oct. 11, 1824 prior to this it had sailed from Norfolk, Virginia and arrived in Belfast after a trip of 26 days where its presence was announced in the paper and its planned return to America at the port of Charleston. This trip was to be the first scheduled trip from the port of Belfast to Charleston. The Georgiana was an American ship captained by James Cornick — "an experienced and skilful navigator" — and was described as "first rate Coppered and Copper-fastened." The article further describes it this way:
This fine Vessel is high and roomy between decks – sails equal to any of the American Packet Ships, and will be found on inspection to have such superior accommodations for Passengers, as will command a preference; carries a SURGEON, and will be abundantly supplied with Water and Fuel for the voyage.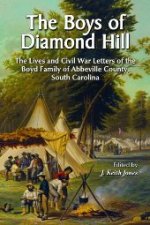 There was a ship also named the Georgiana which would later carry prisoners on at least three trips to Australia and was involved in a famous mutiny, but it appears that was a different ship as it was described as being 408 tons — a little over half the size of this Georgiana.
Imagine the hope of a new life in a new country this young Irishman must have felt setting foot onto the Charleston shore.  He would dig out a simple life in the rural soil of Abbeville District along the Rocky River — a tributary of the Savannah — where he would experience the joy of the birth of his seven children and endure the pain and financial burden of the death of his first wife, Catherin Phropet, then find happiness again with his second wife Hannah Crowther. Thirty-six years after stepping off the Georgiana, Robert Boyd would have his world turned upside down when war swept across his adopted land in a struggle of union versus principle. This war would claim four of his five sons and the husband of his eldest daughter. To compound this, Daniel, the son the war did not claim would die five years after the war from disease. With the exception of the children of his younger daughter Sallie, all of Robert Boyd's grandchildren would grow up without fathers.
Despite knowing the hard times to come, I marveled at being transported back to New Year's Eve 1824 to see the world through the eyes of a bright twenty year old Irish lad full of hope as he stepped onto the docks in Charleston ready to embark not only on a New Year, but on the adventure of a lifetime… and what a life it was.