Reminder, I will be at the Anderson Visitors and Arts Center at 110 Federal Street in beautiful Anderson, South Carolina on tomorrow — Saturday, June 9. I will be there signing my books.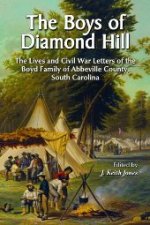 Of course this should be of special interest to local history buffs because of "The Boys of Diamond Hill," about the Boyd family's experiences in the War for Southern Independence. Of course, I will also have copies of "In Due Time" as well. I am looking forward to this visit and hope to see many of my friends, both old and new, out there on that day.
Click here to listen to the interview I did a year and a half ago on WRIX for my last signing down there.